Product code Colour
Silver
Black
General Specifications
Product typ : Outdoor spotlight
Mounting type: Ground - surface,Wall - surface
Description: Exterior LED spotlight featuring a compact design. It can be
mounted on the wall or in the ground. High protection rating IP66.
Indoor/outdoor lights: Outdoor
Applications: Façades,Gardens,Residential outdoor areas,Terraces
Lighting specifications
Lamp description: LED 3350lm 26W 3000K
Nominal lumens on thermal regime: 3350
Lamp wattage (W): 26
Color temperature (K): 3000
Physical Specifications
Body: Die-cast aluminium with a special anti-oxidising treatment
Finishes: Polyester painted
Reflector: Mirror-metallized thermoplastic material
Closing Screen: Grinded, tempered 8 mm, and heat resistant glass
Gaskets: Silicone
Screws: Stainless steel
Electrical Specifications
Glow wire (°C): 850
Driver: Included
Driver mounting: Integrated
Voltage (V): 220/240
Frequency (Hz): 50/60
Weight and Dimensions
Length (mm): 120
Width (mm): 28
Height (mm): 279
Weight (Kg): 2
Optical Specifications
Light distribution: Symmetric
Light emission: Accent light
Light beam: 38°
Horizontal orientation: 220°
Note: 20°, 65° (mirror metallized), 70° (white) optics are available on
demand.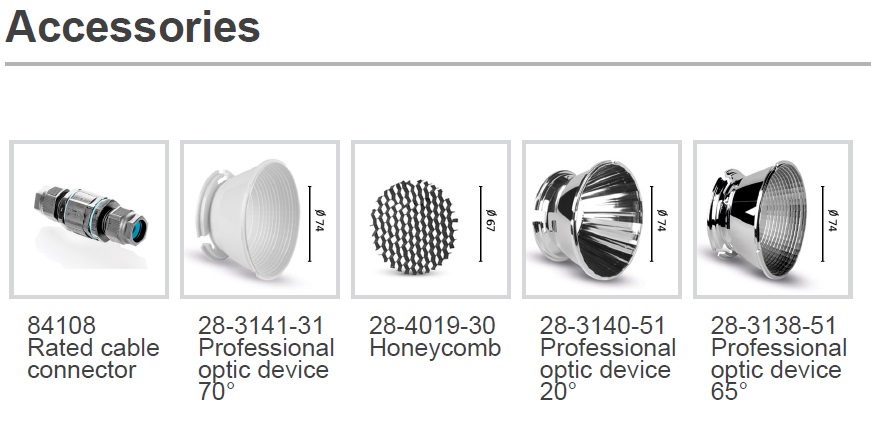 Diesen Artikel haben wir am Monday, 17. July 2017 in unseren Katalog aufgenommen.